Greasy Palm Review
Shop at Your Usual Online Shops But Get Cashback On Everything You Buy!
Greasy Palm WAS the No.1 cashback shopping site. But cashback sites have changed BIG time, and you should switch immediately to one of the best 100% cashback sites. Still free, but YOU get paid MORE!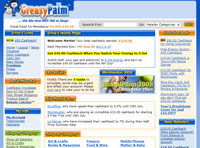 If you want to earn cashback when you buy online, Greasy Palm do it best! They launched in 2002, and have already awarded over 7 million pounds of cashback to Members (currently £7,025,135.63 to be precise!). You can start getting a share of that right now - and it won't cost you a thing!
Greasy Palm list over 800 shops from which you can get money back on everything you buy. Joining is simple, quick and free. You actually get a £2.50 bonus just for joining to start you off.
Earning Cashback with Greasy Palm is Easy
It really is simple. You log in, pick the shop you want, click the link to go there and shop as normal. That's all you do. Every time you reach £25, you get sent a cheque. You then also get another £2.50 in your account to get you going again! How many cheques do you want this year?
But it's actually even better than that...
Greasy Palm have some extra special features up their sleeves:-
Firstly there is Rebate Catcher - this clever little tool ensures you always get paid your cashback, even if you forget to log in to the Members site first! It even tells you how much cashback you're going to earn.
Secondly, they also have some great Price Comparison tools. You can find the best price for any book, CD or DVD - and then get cashback on top of the cheapest price. This really does work too, I now use it every time.
And thirdly, there is also a Reminders Tool - so you can set up email reminders to tell you when you need to get presents for birthdays or anniversaries, AND for things like insurance renewal dates. Who remembers to shop around in enough time to avoid being stuck with the same overpriced insurance provider for another year? Simple, but this tool is really useful!
Sounds great doesn't it? Just imagine how much cashback you will earn from your online shopping with Greasy Palm this year alone!
I can't wait for you to try this out. You'll see how well designed the site is right away, and find out how easy everything is. And when it's free to join too, you really do have nothing to lose and an awful lot to gain. Do join right now and see for yourself. It only takes 30 seconds to join.
Click Here to Join Greasy Palm FREE Right Now and Start Earning Cashback on Everything YOU Buy
Don't use this one anymore - instead switch to one of the best 100% cashback sites. You get a much better deal!
For reference, you can also find the old 'standard' sites here. Don't use any of these either though.