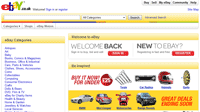 We all love eBay. And many of us look for stuff on eBay before we even look at Amazon or anywhere else.
But did you know there is a really simple way to get cashback every time you buy something through eBay?
It's not going to pay off your mortgage or anything, but it really is 'something for nothing'. A little bit of eBay cashback every time really builds up to some useful extra cash.
(Don't worry, it's not dodgy and you don't have to do anything weird. In fact eBay know all about it and are perfectly happy about it too.)
So How Do You Earn Cashback From eBay?
All you have to do is join (for free!) one of the cashback shopping sites out there (check our reviews of the best sites here). Then add their eBay cashback link to your favourites and that's it!
So Where Does The Money Come From?
Every time you buy something using that link, the cashback site gets paid a percentage of the eBay fees – and they give that cash back to you. It's really that simple.
What's The Catch?
None. Seriously. You don't do anything differently with your eBay account. It's just an advertising commission paid to the referring site for encouraging you to use eBay. And instead of keeping all the commission, the cashback site give it to you instead.
Where Do I Start?
There are a number of cashback sites out there, some are way better than others. So start here for the best cashback shopping sites and you can't go far wrong.
Let us know how you get on.