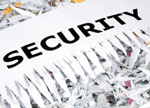 Do you have paper documents that contain your personal data? Then you need a good shredder.
And I'm talking a proper confetti cut paper shredder – not one of those pathetic battery powered ones that are no better than tearing a page up.
The kind of people who are willing to go through bins to steal documents are capable of sticking pieces of paper back together. So even a good strip cut shredder can be risky.
What Is A Confetti Cut Paper Shredder?
Strip cut shredders cut pages into long thin strips, cross cut shredders also cut those long strips into smaller pieces (better).
But confetti cut are the daddy of shredders, as they blitz pages into tiny little pieces of confetti. Even the most dedicated thief is just not going to bother with confetti!
So obviously confetti cut shredders are also the most 'expensive'.
But guess what…
You Can Get Quality Confetti Cut Shredders At Great Prices
In fact, I've just found 2 top models that are in stock and available to buy online now, at great prices.
If you shop wisely they can even be as cheap as a decent strip cut shredder!
So please don't buy one of those nasty £20 ones from Argos or WH Smiths – they are slow, noisy and will break in a year! And end up costing you MORE. I know because I've burned through TWO of them before learning my lesson!
Note: I hope you do like any products I recommend here as much as I do – but just so you know, our site might receive a small share of the purchase price when you buy after following a link on this site. You pay the same but it helps us keep this site running – so thank you :-).
Get one of these and you'll thank me for it:-

1. Rexel ProStyle Shredder
Click Here to Find it on Amazon.co.uk
Rexel make the best quality shredders. And this Rexel Pro Style Shredder is my personal favourite. It can take 11 sheets at a time (that's a lot – most cheap shredders struggle with 3 pages), and easily destroys old credit cards securely too.
It also has a 20 litre storage bin. This does matter – smaller bins will annoy you by getting full too often and regularly needing emptying!
Plus the motor is much quieter than most shredders which I find highly desirable, so it might matter to you too. This is well built and will last you for years. Looks pretty snazzy too.
2. Rexel Style Plus Shredder
Click Here to Find it on Amazon.co.uk
This is the little brother of the Pro Style shredder. It's sheet capacity is reduced to 7 sheets at a time, and the storage bin is 12 litres instead of 20 litres. But it's still a great machine, so worth considering if you're tight on space.